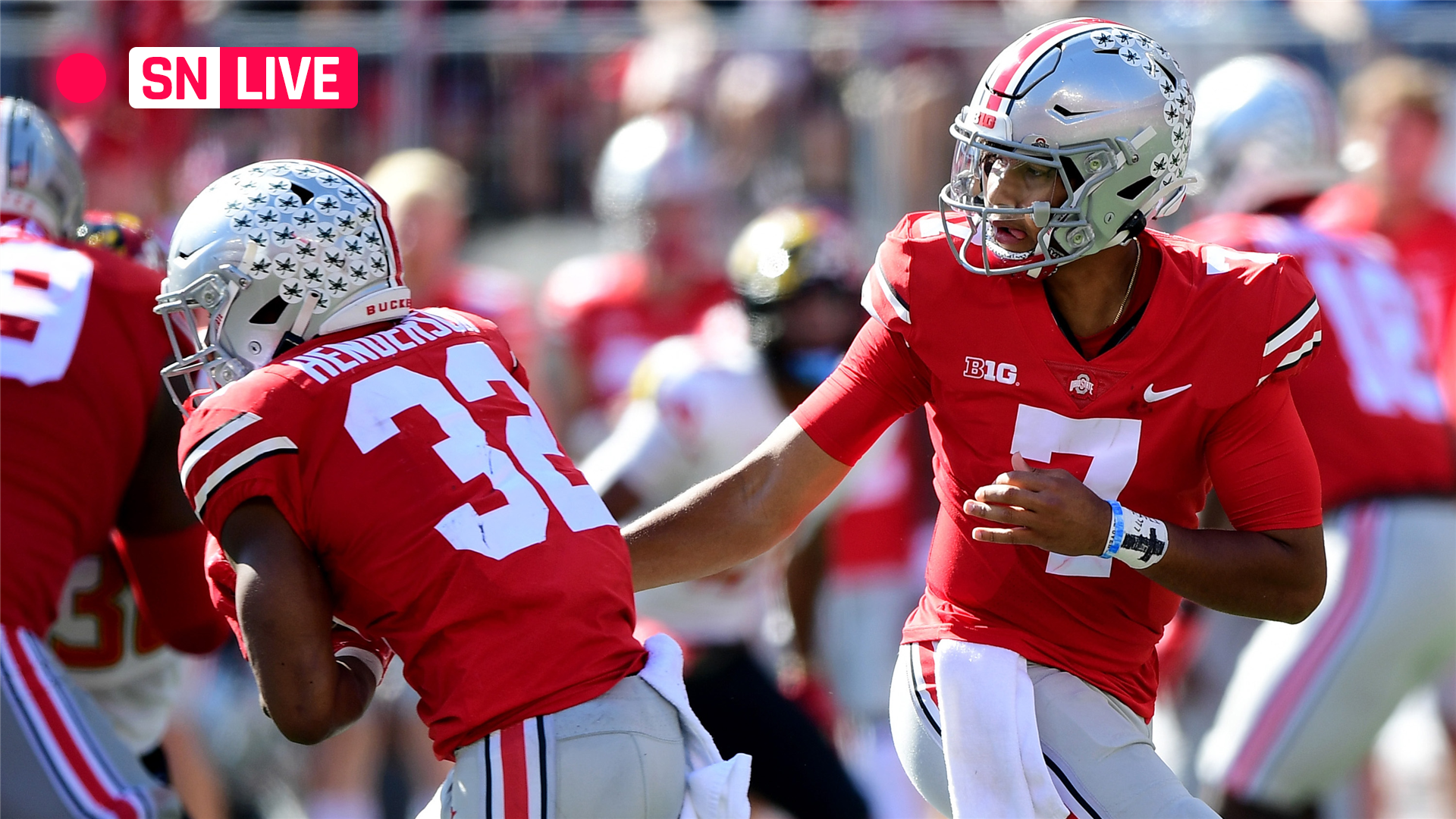 Ahead of an annual marquee matchup, a once-promising season for Penn State has seemingly come off the rails, while a once-worrying start for Ohio State seems to be a distant memory.
The Buckeyes are No. 5 in the latest AP Top 25 and Coaches Poll, winning five in a row after starting the season 1-1. They had defensive woes early, but have yielded just 44 points in their last four games; they're beating opponents by 47 points per game. Penn State, meanwhile, started off 5-0, but has fallen off starkly and quickly, losing to Iowa 23-20 without a fully healthy Sean Clifford and then losing to unranked Illinois 20-18 in nine overtimes in Week 8.
MORE: Watch Ohio State vs. Penn State live with fuboTV (7-day free trial)
Clifford is expected to be close to, if not at 100 percent for the Nittany Lions, but it still may not be enough to counteract Ohio State's offense, which includes quarterback C.J Stroud, receivers Chris Olave and Garrett Wilson and running back TreVeyon Henderson. The Nittany Lions also don't have history on their side: James Franklin hasn't beaten Ohio State since 2016, and Penn State hasn't won in Columbus since 2011.
Ohio State won last year's meeting 38-25 in Beaver Stadium, and will look to continue its dominance over its longtime Big Ten foe in a game with potential College Football Playoff implications.
Sporting News is tracking live scoring updates and highlights from Ohio State vs. Penn State on Saturday. Follow for complete results from the 2021 Big Ten rivalry game.
MORE: Penn State's James Franklin says team focused on Illinois during press conference, despite playing Ohio State
Ohio State vs. Penn State score
| | | | | | |
| --- | --- | --- | --- | --- | --- |
| | Q1 | Q2 | Q3 | Q4 | F |
| Ohio State | — | — | — | — | — |
| Penn State | — | — | — | — | — |
Ohio State vs. Penn State live updates, highlights from 2021 rivalry game
8:47 p.m.: There's a penalty on Penn State and it's a loss of down. Penn State goes for it on fourth-and-5 but Clifford gets sacked. OSU takes over from the Penn State 49.
8:46 p.m.: Washington picks up 5 and the Nittany Lions cross midfield, to the OSU 43.
8:45 p.m.: Penn State converts on third and long, finding Washington for 13 yards and an easy first down. Nittany Lions nearing midfield.
8:41 p.m.: It's quickly third-and-7 following the big gain from Washington and Penn State calls its second timeout of the half.
8:40 p.m.: It's a 25-yard gain for Penn State as Clifford hits Parker Washington for the gain.
8:36 p.m.: TreVeyon Henderson's woes continue. He's swallowed up on third down and OSU punts it away to the Penn State 11 yard line.
8:35 p.m.: Another penalty for snap infraction on the Buckeyes. Second-and-11 pass is complete to Smith-Njigba for 9 yards to the Penn State 45.
8:31 p.m.: Stroud completes a pass to Miyan Williams for 12 that was originally ruled a fumble. Call is overturned and Buckeyes get first-and-10 from their 47.
8:29 p.m.: Ohio State's entire offensive line gets called for a false start to begin the second quarter.
End quarter 1: Penn State 7, Ohio State 3
8:25 p.m.: The Buckeyes will start the second quarter looking at third-and-7 from their own 21.
8:23 p.m.: Ohio State is looking at third-and-2 following the run from Miyan Williams but the Buckeyes get hit for a snap infraction and get driven back 5 yards to end the first quarter.
8:21 p.m.: Penn State goes three-and-out following the field goal. Nittany Lions punt it away and Ohio State takes over at its own 18.
8:20 p.m.: John Lovett fair catches the ball and Penn State will take over.
8:18 p.m.: FIELD GOAL OHIO STATE. Noah Ruggles splits the uprights from 35 yards out. Penn State 7, Ohio State 3 with 2:02 left in the first quarter.
8:17 p.m.: Ryan Day sends out the field goal unit as Stroud sails one over the head of Wilson. Fourth-and-13 from the 18 sets up a 35-yarder field goal.
8:16 p.m.: On second-and-13, Penn State brings pressure and Stroud has to throw it away. Third-and-13 from the Penn State 18 for Ohio State.
8:13 p.m.: Ohio State gets called for a false start, bringing up second-and-13 from the Penn State 18. James Franklin calls a timeout on defense, Penn State's first of the half.
8:11 p.m.: Wilson again, this time for 19 yards and OSU is well inside the red zone.
8:10 p.m.: Penn State gets hit with an unncessary roughness call after Joey Porter lays a late hit on Garrett Wilson. First-and-10 for the Buckeyes from the Penn State 34.
8:09 p.m.: Stroud hits Jaxon Smith-Njigba for 11 yards and a first down.
8:07 p.m.: Penn State's DC Brent Pry dialing up pressure early. Nittany Lions' defensive line swarms TreVeyon Henderson and he's swallowed up for a loss.
8:06 p.m.: Ohio State will take over from its own 25 after the Penn State touchdown.
8:02 p.m.: TOUCHDOWN PENN STATE. Clifford hits Strange over the top for a 5-yard TD and Penn State caps off a 13-play, 89 yard drive to go out in front early. Penn State 7, Ohio State 0 with 6:08 left in the first.
8:01 p.m.: Keyvone Lee is the rusher this time, taking it 11 yards to the OSU 5 and putting Penn State in nice position to strike early.
8:00 p.m.: Parker Washington hauls in a 32-yard grab out of the slot and puts on a few nice juke moves to gain big yardage. First down Penn State at the OSU 16.
7:59 p.m.: Clifford goes to the air again, hits KeAndre Lambert-Smith for 16 yards to the OSU 48.
7:58 p.m.: It's Lovett again out of the backfield and he gains 2 for the first down.
7:57 p.m.: Clifford's first pass attempt of the game is completed to tight end Brenton Strange for 8. Third-and-1 from the Penn State 31.
7:56 p.m.: Lovett follows that up with a 5-yard run and Clifford keeps it for the first down.
7:55 p.m.: Penn State opts to go with John Lovett on the run following the punt, gaining 4 yards.
7:51 p.m.: Penn State's defense forces a three-and-out. It's fourth-and-7 from the Penn State 48. Nittany Lions take over at their own 11.
7:50 p.m.: Stroud hits Wilson again for another big gain, this one for 12 yards. Ohio State is marching early.
7:48 p.m.: The two teams trade fumbles, as OSU sacks Sean Clifford, who loses the ball. Buckeyes take over from their 47.
7:47 p.m.: Penn State forces a fumble on a catch by Jeremy Ruckert and takes over at the Ohio State 46.
7:46 p.m.: Ohio State's first play from scrimmage is an 11-yard pass from CJ Stroud to Garrett Wilson.
7:44 p.m.: Penn State wins the toss and defers. Ohio State will start the game at the 25.
7:39 p.m.: Both teams have taken the field, with kickoff coming up shortly. Ohio State opens as 20.5 point home favorites.
Ohio State vs. Penn State start time
Kickoff: 7:30 p.m. ET | 4:30 p.m. PT
TV channel (national): ABC
Live stream: Watch ESPN App, fuboTV
Ohio State vs. Penn State will kick off at 7:30 p.m. ET from Ohio Stadium in Columbus, Ohio.
This matchup between perennial Big Ten powers will air on ABC. Former State College resident Chris Fowler will handle play-by-play duties with former Buckeyes quarterback Kirk Herbstreit joining him as the analyst. The two will be accompanied by Holly Rowe, reporting from the sidelines.
College football schedule Week 9
| | | |
| --- | --- | --- |
| Game | Time (ET) | TV channel |
| No. 2 Cincinnati at Tulane | Noon | ESPN2, fuboTV |
| No. 6 Michigan at No. 8 Michigan State | Noon | Fox, fuboTV |
| No. 9 Iowa at Wisconsin | Noon | ESPN, fuboTV |
| Texas at No. 16 Baylor | Noon | ABC, fuboTV |
| Miami at No. 17 Pitt | Noon | ACC Network, fuboTV |
| No. 22 Iowa State at West Virginia | 2 p.m. | Big 12/ESPN+ |
| No. 1 Georgia at Florida | 3:30 p.m. | CBS, fuboTV |
| Texas Tech at No. 4 Oklahoma | 3:30 p.m. | ABC, fuboTV |
| Colorado at No. 7 Oregon | 3:30 p.m. | Fox, fuboTV |
| Duke at No. 13 Wake Forest | 4 p.m. | ACCN, fuboTV |
| No. 10 Ole Miss at No. 18 Auburn | 7 p.m. | ESPN, fuboTV |
| No. 12 Kentucky at Mississippi State | 7 p.m. | SEC Network, fuboTV |
| Kansas at No. 15 Oklahoma State | 7 p.m. | Fox Sports 1, fuboTV |
| No. 19 SMU at Houston | 7 p.m. | ESPN2, fuboTV |
| No. 20 Penn State at No. 5 Ohio State | 7:30 p.m. | ABC, fuboTV |
| North Carolina at No. 11 Notre Dame | 7:30 p.m. | NBC, Peacock fuboTV |
| Virginia at No. 25 BYU | 10:15 p.m. | ESPN2, fuboTV |
| Fresno State at No. 21 San Diego State | 10:30 p.m. | CBS Sports Network, fuboTV |